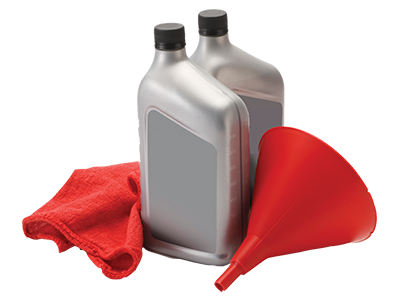 Discount Oil Change Coupons in Tampa FL
Please be sure to print or save any service coupons to your phone and represent to service advisor in order to redeem.  Up to 5 quarts of oil. Offer may not be applicable to certain models including but not limited to Audi, Mercedes-Benz, BMW, Porsche, Land Rover, Jaguar & Volkswagen. Non-applicable vehicles we will qualify for the savings amount as a discount on your service bill. Offer not redeemable for cash and cannot be combined with one or more special offers.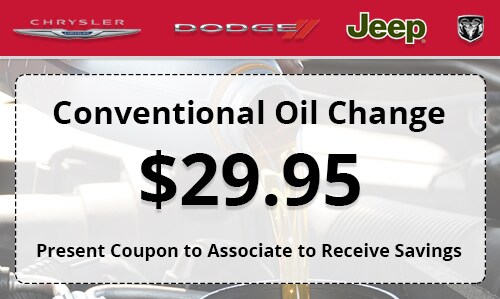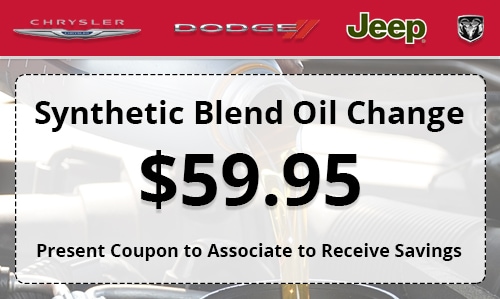 Synthetic Oil Change Near Me | Coupons for Synthetic Oil Changes | Synthetic Oil Changes in Tampa Florida
While oil might all seem the same to you, having a synthetic oil change has many benefits. It offers improved lubrication that helps keep engine parts slick at high temperatures, and increases the overall longevity of your engine. Synthetic Oil is also far more stable than conventional oil, as it has been engineered to maintain a better viscosity (or thickness) over longer periods of time. One of the best benefits of Synthetic Oil is that it also breaks down slower - which means that your car can go longer periods between oil changes, which can also save you money, unfortunately the price of a synthetic oil change tends to be steeper than it's conventional counterpart; however, Courtesy Chrysler Jeep Dodge Ram offers several coupons and specials to pass on the best savings to our customers. We look at the competition to make sure that we are offering you the best deals possible, and that is BEFORE you get to apply additional oil change coupons to your savings!
Full Synthetic Oil Change Near Me | Full Synthetic Oil Change Coupons | Full Synthetic Oil Changes in Tampa Florida | Oil Change Synthetic Coupon
Full synthetic oil changes are the absolute best idea for any car owner who wants their car to go the distance; however, these types of oil changes can be a bit pricey - due to the cost of such oils, not many dealerships carry multiple types of brands for their customers. At Courtesy Chrysler Jeep Dodge Ram, we carry all of the best brands to make sure that your car gets pampered in the way it deserves: From Castrol Oil to Mobil & Penzoil as well. No matter what brand of oil you prefer in your car, we will have it in stock just for you. We also make sure to buy our oil in bulk to make absolutely sure that we can offer you the absolute best at rock bottom prices. No matter what type of oil you choose, you can always pair your service with one of our special coupons to get additional savings. At Courtesy Chrysler Jeep Dodge Ram in Tampa, we want to make sure that you can get the best without breaking your bank.
Semi-Synthetic Oil Change Near Me | Semi Synthetic Oil Change Coupons | Semi Synthetic Oil Changes in Tampa Florida
Semi-Synthetic oil or Synthetic Blend Oil is less costly than full synthetic oil due to the fact that it is a mixture of traditional (conventional) motor oil and synthetic oil. Because the two are mixed together, the overall cost of the oil change is cheaper. Semi-Synthetic oil started becoming extremely popular in the early 2010's, and several OEM made semi-synthetic oil as the requirement for their vehicles. If you aren't sure what type of oil that your car should be using, feel free to call our service department and we would be more than happy to answer any questions that you might have about what type of oil change you should be getting for your vehicle. f