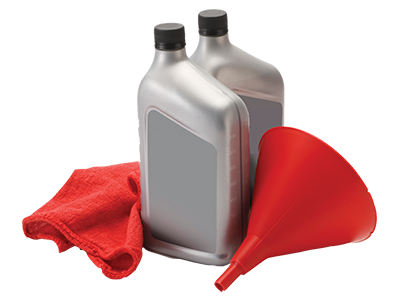 DISCOUNT FULL SYNTHETHIC OIL CHANGE SERVICE IN TAMPA
Courtesy Chrysler Jeep Dodge RAM is the best place to find a full synthetic oil change for your vehicle in Tampa. Click below to see our current service coupons.
Synthetic motor oil & semi-synthetic motor oil (also known as synthetic blend) are designed to be the highest quality motor oil available for your vehicle, providing the absolute best protection and performance possible. But, even though it has been available for a while, many people are still not sure of what synthetic motor oil is or what benefits it offers. Simply put, synthetic motor oil is specifically created from chemical compounds and the formulations allow scientists to create motor oil that at a molecular level that provide more complete protection. This means a series of significant benefits you won't find in conventional oils that include a higher viscosity index, greater resistance to oxidation thermal breakdown and reduced sludge issues. Synthetic motor oil helps keep your engine as close to new as possible for as long as possible, which adds up to you having greater peace of mind on the road. Contact our service department to learn more about the benefits of synthetic motor oil and other options for your next oil change.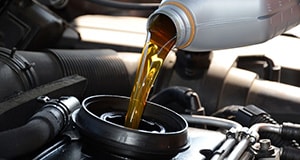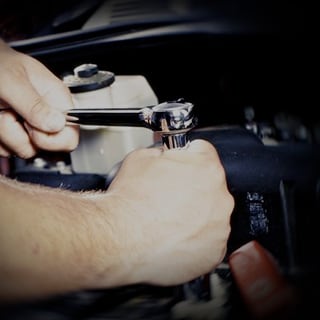 Courtesy Chrysler Jeep Dodge
9207 E Adamo Dr, Tampa, FL 33619
Conventional

High Mileage

Synthetic Blend

Full Synthetic

Good protection
Specifically designed for vehicles over 75,000 miles
Better protection
Best protection
Good sludge protection

Helps reduce oil
consumption
Better cleaning
Better cleaning
Good performance
Helps to replenish worn & potentially leaky seals
Better performance
Better performance
Helps restore lost compression
Protects in extreme temperatures
Protects in extreme temperatures
 
Better fuel economy
Better fuel economy 
LEARN MORE
LEARN MORE
LEARN MORE
LEARN MORE
Best Tampa Synthetic Oil Change Near Me | Synthetic Oil Change Coupon
So why do people decide to use synthetic oil? First, because the manufacturer requires it, especially in high performance motors. More manufacturers today design their engines specifically around the superior protection and performance properties of synthetic motor oil. Our certified technicians at Courtesy Chrysler Jeep Dodge Ram can tell you which oil is required for your vehicle, or you can look at your vehicle manufacturer's recommendations. You may risk engine damage if you don't use synthetic oil, and you may void your new-vehicle warranty. Our location at 9207 E Adamo Drive in Tampa is convenient for our customers in St. Petersburg, Bradenton, Lakeland and Clearwater. If you are looking for the best full synthetic oil change for you car, truck or SUV, visit Courtesy Chrysler Jeep Dodge RAM today!
Fastest Oil Change in Tampa, St. Petersburg, Bradenton, Lakeland | Quick Oil Change
The second reason to use synthetic oil is because it offers the best protection and performance. This is especially true in extreme heat or cold. Synthetic oil flows more freely at freezing temperatures than conventional oil and resists burn off at higher temperatures. Don't wait to take care of your car. Since we live in in a region where temperatures sometimes climbs close to or exceeds triple digits, you should consider a full synthetic motor oil. You should also consider a synthetic or synthetic blend if you do a lot of towing or grinding, rush-hour, city commutes.Courtesy Chrysler Jeep Dodge RAM provides the fastest synthetic oil change services for your Chrysler car or van, Jeep SUV, Dodge car or SUV and RAM Trucks in Tampa. To make sure your full synthetic oil change is accomplished even quicker, schedule your appointment today!
Tampa Bay Dodge Oil Change Discounts | Tampa Oil Change Specials | Dodge Jeep Ram Chrysler Oil Change Deals
Synthetic oil costs more than conventional oil, which is why we also offers synthetic blend. As the name suggests, synthetic blend is simply a mixture or blend of synthetic and conventional motor oils. Both its price and protection levels are in between conventional and full synthetic oil. We also offer high mileage motor oil that helps old vehicles keep running storng. Our service center offers a great deal of service coupons and oil change coupons so you don't spend too much for an oil change. Contact us today to learn more.Our trustworthy team at Courtesy Chrysler Jeep Dodge Ram can help give your car, SUV or truck the ability to run with a powerful engine. See our current service specials and schedule your next service appointment online.

Did you know that motor oil helps keep your engine clean? The oil inside your engine is constantly picking dirt, contaminants and other combustion by-products that can cause sludge build up. Your motor oil acts similar to a sponge. And like a sponge, when the oil becomes saturated with contaminants and cannot hold any more in suspension, the excess falls out of suspension and can form deposits in the engine. Regular oil changes will remove suspended contaminants before sludge can form, helping keep your engine running cleaner, smoother and more efficiently
Chrysler Pacifica 200S | Dodge Charger Dart | Ram 2500 Big Horn | Jeep Grand Cherokee
Did you know that some of the moving parts inside your engine never touch? They actually ride on a thin layer of oil. Motor oil keeps your engine's moving parts sparated from each other and helps prevent damage, friction and wear & tear. Another important function of motor oil is cooling the components. As motor oil circulates, it carries away some of the heat generated as a result of the combustion process. When your motor oil level is low, it will cause the engine temperature to rise. This can also cause engine components to touch or "knock". It is important to check your motor oil level frequently to make sure that this doesn't occur. Courtesy Chrysler Jeep Dodge Ram is proud to be a place where we not only use original equipment manufacturer (OEM) auto parts, but offer synthetic oil changes to add to the life of your vehicle. At Courtesy Chrysler Jeep Dodge RAM, our team can help show you how to make sure your oil level are on point. And by using full synthetic oil in our oil changes, we provide a great deal of oil change benefits you won't find in conventional oil changes. Schedule your service appointment today!
Chrysler 300 | Jeep Wrangler 4x4 | Dodge Durango Journey | Ram 1500 3500
A myth is that all synthetic motor oil are entirely man-made. In today's synthetic motor oil, crude or natural oil is purified and then structurally modified to produce improved performance. Because of the way the oil is purified, full synthetic motor oil is able to perform & protect better than any conventional oil or synthetic blend. That's why more and more vehicle manufacturers are requiring the use of synthetic oils. Using full synthetic motor oil in you Chrysler, Jeep, Dodge or RAM vehicle, will you help prevent excess wear & tear. Our dealership has a state-of-the-art service center and offers great oil change specials, all thanks to our discounted prices. Also keep in mind, though, that using a synthetic blend or full synthetic motor oil doesn't eliminate the need for regular oil changes. Engines running on gasoline or diesel fuel naturally contaminate and stress their motor oil, and additives can only work for so long. Contact us to learn more about oil change intervals for your specific vehicle.
Get A Quick Oil Change in Tampa
You want to get your oil changed before sludge starts to form. The timing of oil changes can vary, depending on the type of vehicle you drive, where you drive and how you drive. Your vehicle manufacturer has done rigorous testing to help determine the timing between oil changes and the proper oil to use. All of this information can be found in your vehicle owner's manual, or you can easily visit Courtesy Chrysler Dodge Jeep RAM serving Tampa, FL for any of your auto repair and/or parts needs or questions. Whether you have a new Chrysler, Dodge or Jeep or used Chrysler, Dodge or Jeep, our experience service team will assess your situation with care and consideration. We look forward to working with you!